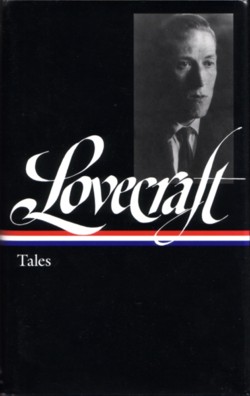 What an astonishing difference a single edition makes. For Christmas, I received a copy of the Library of America volume Tales of H.P. Lovecraft. One of my friends had read a positive review of it in the Boston Globe, and knowing of my interest in Lovecraft, got it for me.

This isn't my first Library of America volume; two years ago, I received a copy of Dashell Hammet's work from the same publisher. The book is well put together, although the paper feels a little flimsy to me. The binding is solid, however, and nothing says 'class' like a bound-in ribbon to mark your pages. I was extremely gratified to see that the book contains the recovered version of "Shadow Out of Time," as well as the Joshi-corrected versions of all the available stories. It's a good, solid edition of Lovecraft's work.

What is absolutely arresting about the volume is how much attention it has gathered. I have seen positive reviews of it in such pop-culture mainstays as Salon.com, the Weekly Standard, the Boston Globe, and even the Wall Street Journal. Where have these glowing reviews been hiding? It is simply that a new generation has been introduced to Lovecraft, or is it that he is coming out from the supposed shadow of 'small' publishers? Whatever the cause, I am happy to see this new edition,. And am extremely pleased to see the that Lovecraft is making his way further and further into the mainstream.

If our country's literary canon has a dress code, then surely it involves those shiny black jackets covering the volumes produced by the Library of America. Lovecraft's new one runs for more than 800 pages and includes 22 novellas and short stories with titles such as "The Horror at Red Hook," "At the Mountains of Madness" and "The Thing on the Doorstep." There are now 25,000 copies in print, which is an above-average number for the nonprofit publisher. (A book of Louisa May Alcott's Little Women and other writings, released at the same time, has an initial printing of 19,000.)
–John J. Miller, Wall Street Journal Tuesday, March 15, 2005

I was rather annoyed to see that Peter Straub selected the stories and wrote the notes for them, rather than our esteemed Mr. Joshi. Straub has made disparaging remarks about Lovecraft being adolescent reading in the past, although he wasn't too proud to utilize Lovecraft extensively in Mr. X. Still, the important thing is that the book is out, and that it is garnering attention: Lovecraft has emerged from literary obscurity, in a single edition, he has leapfrogged over mainstream acceptance and may now be considered for the literati.

This of course leads me to wonder why. Lovecraft has been around for some time, even by major publishers; Doubleday has issued virtually all of Lovecraft in paperback, and Arkham House has been issuing his work for years in hardcover. Joshi's annotated editions and the Penguin editions, why have they been overlooked while the Library of America holds such great weight? Is it fact that it's hardcover, or the simple cover illustration, a photo of Lovecraft on simple black, so different from the lurid covers on the Doubleday books? This edition and the subsequent attention and legitimacy of study that it has brought to Lovecraft has been something our esteemed Mr. Joshi has been working on for years. While I do not wish to look that gift horse in the mouth, I wonder why it is that this particular edition of stories that are already commonly available, suddenly gets notice.