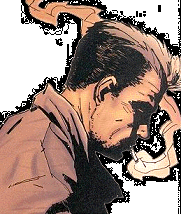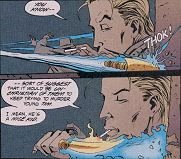 Go here for link images.
In case you just surfed in here and don't know what this is, it's a fanboy's listing of his favorite comic book character's appearances, both in his own magazine, and others. If this frightens you, run away now. Still with me?
If you are new to the Hellblazer series and are wondering where to start, head over to the Trades section.
OK—John Constantine is the most intriguing character in comics today. Created by comics legend Alan Moore in 1985, Constantine is a working-class mage, a thief, a con-artist, former punk, and savior of the known universe. Constantine is by turns a total bastard, a drunk, a trickster, an adrenaline junkie, a womanizer, and sometimes, when no one is looking, a nice guy. He has no superpowers, only a sharp wit, a little bit of magic, and a reputation Aleister Crowley would envy.
This combination makes him an exciting character to read because he is easy to relate to. Instead of weighty declamations, Constantine's dialog is full of snappy comments, nasty digs, and unexpected wisdom. He is, with the possible exception of Batman, the most complex person in the DC family of publications.
So why an index? Obviously, it's pretty simple to figure out that Constantine appears in just about every issue of his own book, Hellblazer. Isn't that enough? Why go tracking all his appearances down? Isn't that kind of creepy to follow a character in comic after comic? Not really. Constantine is something you rather rarely see in the DC Comics universe—he's nasty. Sure, supervillains occasionally get off some zingers, and they design great death traps, but how often do you see someone seriously mouth off in a comic? Has Lex Luthor ever told Superman to get bent in highly explicit terms? John would. Additionally, John is a man of mystery. He is the perfect character to appear out of nowhere, give the hero a vital piece of trivia, and vanish in a puff of cigarette smoke.
Excellent examples of this include Mythos #2, in which John has a little talk with his would-be biographer, and Books of Magic #6, where John lights his cigarette with a Cold Flame dagger. These appearances add to the richness of John's character, and he adds mystery and menace to any story he appears in.
Of course, some people have added Constantine to their stories in very inappropriate ways. Until now, it has been impossible to tell whether an appearance was worth picking up or not. I didn't expect much from the cameo in Batman: Mitefall, but Alan Grant's take on Mite Constantine is hysterical! So I've rated all guest appearances in other books. One flame for an inappropriate appearance, two flames for a standard John Constantine 'appear, be cryptic and vanish,' and three flames for a well-written appearance that is pure John. Hellblazer fans, enjoy.
January 29, 2012 updates:

Up to Issue 300 catalogued, a couple of misplaced pictures fixed. Continung with the new John Constantine's appearances in the DC Universe

All characters, images and their distinctive likenesses featured here are ™ & © DC Comics, a division of Warner, a company so large that they shouldn't begrudge my fan site.